ClickUp™: Our New Favorite Tech Tool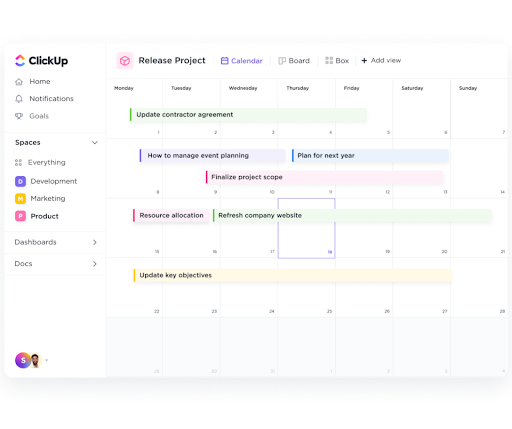 ClickUp™ is a versatile new web application that functions primarily as a project management tool, and serves multiple other functions for small businesses and is adaptable across several industries.
ClickUp's goal for its users is to save time and reduce redundancy by tying everything together in one app. Its integrations, which are called ClickApps, are truly its strength. The 1,000+ integrations set ClickUp apart from other offerings, and for this reason, ClickUp excels at automating processes that use multiple apps, including hard-to-automate processes like customer onboarding.
Some of the functions people use ClickUp for include reminders, goals, whiteboards, templates, calendars, document flow, task management, dashboards, marketing processes, and team collaboration and communication.
One feature frequently mentioned is the ability to create custom views exactly the way you want them. Views provide a summary of your work and come in many flavors. You can create task views, list views, boards, calendars, Gantt views, workload views, and box views.
If ClickUp has any weakness, it could be the fact that it's a blank slate. Because the platform is so versatile, it can be used across many different industries. However, users should really spend some time considering their hierarchy of workspaces, folders, and list. You may need to be somewhat tech-savvy to get everything set up. The learning curve can be intimidating, but once you get through it, there is so much power in having everything customized and on one platform.
ClickUp does have a following of power users, and a certification of sorts is offered. Becoming ClickUp Verified means that you've earned expertise in the product. If the learning curve is too much for you or your team members, you can hire one of these ClickUp consultants to do the setup for you, or head to YouTube for comprehensive tutorials. 
As of this writing, ClickUp hosts 4,000,000 users, including those using the free version available for personal use. Monthly pricing for business users ranges from $5 to $19 per user, depending on the features you need. Enterprise options are also available.
ClickUp was founded in 2017, is headquartered in San Diego, CA, and has raised three rounds of funding as of this writing. New Business Directions recently implemented ClickUp within our own company, so if you'd like to learn more about why we chose this software, send us an email or learn more at clickup.com.