How to Replace a Lost or Destroyed Payroll Check in QuickBooks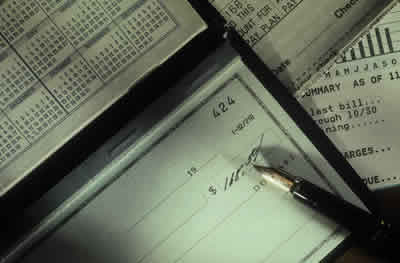 Please note that you should rarely need to void a payroll check. Remember that voiding a payroll check is not like voiding other kinds of checks; paychecks have associated tax and other liability calculations and payments that need to be taken into consideration. You are required to amend and file corrected payroll tax returns if you void a paycheck from a previous tax period.
To correctly replace a lost or destroyed paycheck and ensure that your payroll data remains accurate, you need to print a replacement check with a new check number and make a record of the lost or destroyed check.
Find the Paycheck in QuickBooks®
First, open the check register and find the paycheck that was lost or destroyed. In the Banking section on the Home page, click the Check Register icon. If you have more than one bank account, select the appropriate account and click the OK button. This brings up the Check Register where you can search for the lost or destroyed paycheck. You could also search for this check in the Employee Center.
Once you find the original paycheck, make a note of the check number and the net pay amount. You will need these later.
Double-click the entry in the register to open the Paycheck window. Select the To be printed checkbox and click the Print button at the top of the window to reprint the check using the next check number in your numbering sequence. Click Save & Close in the Paycheck window and close the check register.
This is the replacement paycheck that you will give the employee.
The next steps create a record of the lost or destroyed paycheck.
In the Banking section on the Home page, click the Write Checks icon.
Use the same check number as the original lost or destroyed check.
Make the date the same as the day the check was originally written.
Make the check payable to the employee (ignore the message about using the built-in payroll features.)
Make the check amount the net payment amount from the original check.
Note in the memo line that this check was replaced by the check you reprinted.
On the

Expenses

tab, choose Payroll Expenses in the

Account

column.
Click Save & Close.
Open the check register again. Find the check you just created, right-click it, and click Void Check.
You should now see the word "VOID" in the Memo field and a check amount of "0.00." You now have a record in your check register of the lost or destroyed check.
*Please note that clients using the Assisted Payroll service and/or QuickBooks® Payroll with Direct Deposit may need to perform additional steps when reissuing paychecks to Employees.
This article of QuickBooks Tips and Tricks was based on the 2012 version of QuickBooks.