NEW BUSINESS DIRECTION'S RHONDA ROSAND, CPA RECEIVES 2018 TOP 100 PROADVISORS AWARD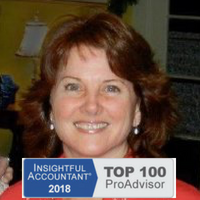 NEW BUSINESS DIRECTION'S RHONDA ROSAND, CPA RECEIVES 2018 TOP 100 PROADVISORS AWARD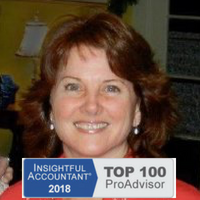 NEW BUSINESS DIRECTIONS is pleased to announce that Rhonda Rosand, CPA has been named a 2018 Top ProAdvisor by Insightful Accountant, an independent news and information source written specifically for the small business advisor who needs to stay current on the latest news and offerings in accounting technology, including updates from Intuit, Xero, Sage and the hundreds of add-on products serving small businesses. Rhonda was selected as part of the Top 100 out of the growing list of more than 100,000 ProAdvisors.
This list recognizes the leading consultants who have embraced the ProAdvisor program and have leveraged it in order to better serve their clients and grow their own business. "We'd like to congratulate everyone who made this year's list," said Insightful AccountantSenior Technical Editor, William "Murph" Murphy. "We had several new people join the ranks this year."
"I am honored to have received the Top 100 ProAdvisor designation for the 5thconsecutive year.  We are inspired by helping small businesses, and we're committed to their success. We find our work challenging and invigorating, and it shows in our results."  Says Rhonda Rosand, CPA
New Business Directions, LLC specializes in QuickBooks® set up, clean up, consulting and training services, coaching small business owners and providing innovative business solutions.
"This is the fifth year of our ProAdvisor awards," said Insightful AccountantPublisher and Managing Partner, Gary DeHart. "Each year the competition continues to grow and we appreciate the hard work and efforts of all of our winners."